Welcome to MyInauenGroup.com,
the home of VC999 Packaging Systems.
A dynamic packaging brand created by a full circle of innovative and efficient machine & material solutions engineered to increase efficiencies and decrease costs for our customers.
VC999 Packaging Systems is a global leader in the design and manufacture of innovative thermoform packaging machines, vacuum chamber machines, shrink tank, dryer, and tray sealing systems for the food, non-food, pet, and medical industries. View the complete line at VC999.com.
VC999 Materials provides supply solutions for both food and non-food applications. Products include pouches, shrink bags, thermoforming film, skin film, cook in, and more. Printed and custom orders too!
VC999 Packaging Plus Machines provide quality with economical solutions for Vacuum Chamber, Shrink Tank, Flow Wrapper, Weighing/Portioning, Metal Detection, Flow Wrapper, Tray Sealing systems, Secondary Packaging, and much more. Packing options vary from small tabletop machines to massive industrial automatic packaging systems.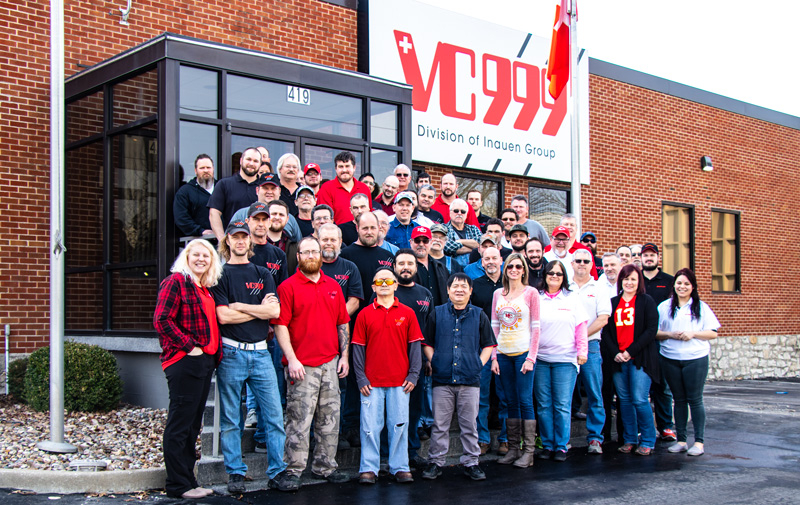 A Brief History
VC999 Americas encompassing VC999 Packaging Systems, VC999 Materials, and Packaging Plus brands was founded over 30 years ago. The company remains privately owned by the Inauen family. Based in North Kansas City, USA in the Western Hemisphere and Herisau Switzerland for Eurasia and Africa. Recognized around the world for innovative engineering design and manufacturing expertise in all aspects of packaging machine systems, the continued growth and expansion of VC999 throughout Europe, Asia, Africa, and the Americas includes manufacturing, converting, and offices all over the globe. This US facility designs and manufactures the R, P, & I-Series Thermoform Packaging Machine systems and manages the company's other brands and offerings, VC999 Materials & Packaging Plus.
In 2011, the US office celebrated 25 years of manufacturing and spectacular service. VC999 currently employs hundreds worldwide and has manufacturing, distribution, sales, and service offices in more than 20 countries.
The VC Americas team is dedicated to continued growth as a global leader in the product packaging machine system and material industries.